So I cut the 1917 tp 2″ for ballistics tests, which went pleasingly well. I decided I liked the look, but the wood grips seemed out-of-character for the gun and the front sight, which was quick-and-dirty for testing, needed to go.
I un-soldered and removed the front sight, widened the groove slightly, then fabricated a new half-round front sight to fit and soldered it in place. Looks the business and works well.
As for the grips I raided my stack of antler and on finding a suitable section I cut slabs for the grips. They came out quite well, in a comfortable shape with a lot of 'bark' on either side. I finished them with lacquer, then decided I needed a grip adapter. I did not find a suitable piece of antler for one, but I ran across some American Holly. Well why not?
So here are the finished results. I expect I might much about with little tweaks for a while, then decide whether to strip it and rust blue it.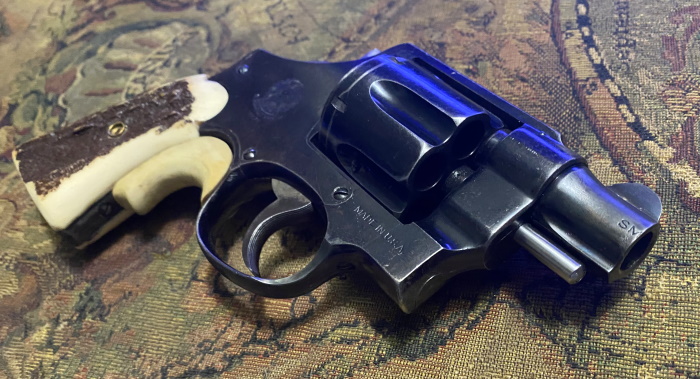 I expected I would want to replace the barrel after my tests, but found I really liked it with the short barrel. Still as bit of this and that to do; smoothing the trigger-face, mounting a detent in the crane etc. but I'm really diggin' this.
Stay safe and take care,
Michael Tinker Pearce, 10 December 2022