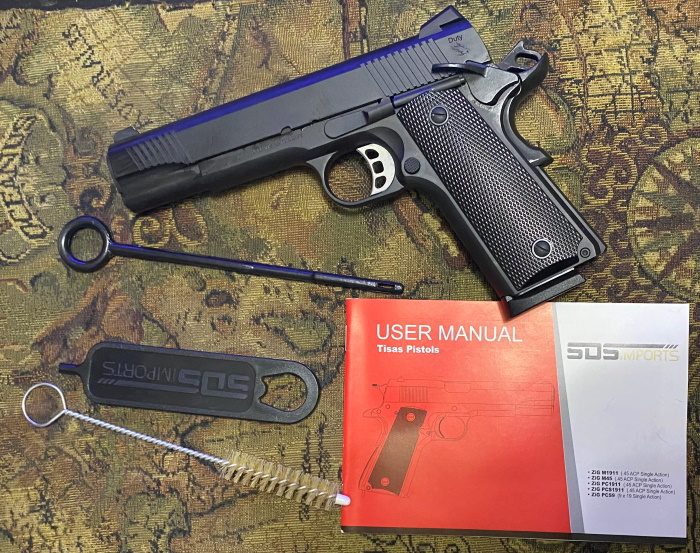 As an aside I have a helpful suggestion. When your doctor says you need three different vaccines don't say 'OK. let's do it.' Yesterday in the course of a normal check-up I was told I needed Flu, Pneumonia & Shingles. As a man of a certain age I find it prudent to listen to my doc's recommendations, so I said 'Bring 'em on!' By late afternoon when I was doing the shooting test of the Tisas it hurt to hold the gun at eye-level, so don't expect my best shooting. Today I feel like hammered crap. I never desired to know what 'hammered crap' feels like, but life is full of new experiences. Vaccines 3, Tinker 0.
I've had a 1911 project in mind for some time, and the Mistress of Finance agreed to a modest budget. After pricing out what I wanted I wasn't quite over budget, but the MoF was looking at me sideways. I determined that rather than buying a frame and all the parts it would be cheaper to start with a complete 'economy' gun. Enter the Tisas Duty B .45. It has all the right bits, it was recommended by one of my 1911 gurus and for $439 looked to be a bargain. Yesterday we took possession of the gun and I examined it and did a test-fire.
This Gun is Full of Surprises
The gun is based on a Series 70 Colt 1911, embellished with forward slide-serrations, skeletonized combat hammer and trigger, undercut trigger-guard, beavertail grip-safety with a speed bump, combat sights etc. It's finished in black CeraCote.
Another surprise is that I am told the grip safety is an actual Wilson Combat piece, and the Novak sight is actually Novak. I don't know this for sure, but if they aren't someone needs to sue someone.
At first glance only the black plastic grip-panels betray this guns 'budget' nature. Lines are sharp, components are really well-fitted. Slide-to-frame fit is snug. Overall the impression is of quality. Except for those grips, which in fairness are serviceable enough, just cheap. The provided magazine holds eight rounds and is well-made and finished.
Perusing the literature I was surprised to discover that both the lower receiver and slide are forged. This is widely held to be a good thing. It is also 'Machined After Hardening.' This is not merely a good thing, it's a surprising thing. I could geek on this, but in a nutshell it removes the possibility of distortion in heat-treat, It's seriously unexpected in an inexpensive gun but it drastically reduces tool-life, which makes the process more expensive.
The trigger is pretty damn good. It's not 'tuned race-gun' good, but as production triggers go? A bit loose on take-up, but the break is crisp, overtravel minimal and rebound is short and positive. It's also pretty light compared to most box-stock 1911s.
Disassembly yielded more surprises; the interior machining is clean, sharp and free of tool-marks. This is a really nicely made gun. There was also no 'protective' gunk inside, just a slightly excessive coating of gun-oil. With no need to clean the gun I went straight onto the range.
Test-Fire
I was taken by surprise that my background-check was returned so quickly so I didn't do all of the reloading I intended to for this test. I had fifty rounds of 230gr. ball on hand and some odds and ends. These included 200gr. LRNFPs, Speer 200gr. JHPs, some 200gr. HG68 LSWCs and some 185gr. XTP JHPs.
I had the most of them, so the first few mags were the Ball ammo and the gun functioned flawlessly. Spoilers- get used to hearing that phrase. After that it was all randomly mixed mags, which the gun digested without so much as a bobble.
Accuracy seems fine, but it was hard to tell. After the vaccinations shooting was 'Good Training,' a military term for doing just about anything that is utterly miserable.
After around 100 rds. of mostly mixed ammo the gun has yet to have any issues. I'm impressed. It's possible that issues would crop up with a more extensive test, but all things considered I inclined to think it would be fine. I'd shoot more, but I got the gun for a project and I'll be getting on with that promptly, which means that it will be a while before this gun will fire again.
Conclusion
If you like 1911s you'll like this gun. Good quality, thoughtful upgrades and an affordable price. What's not to like?
Michael Tinker Pearce, 17 November 2021
If you like what you see here, please consider clicking the link above and supporting me on Patreon.