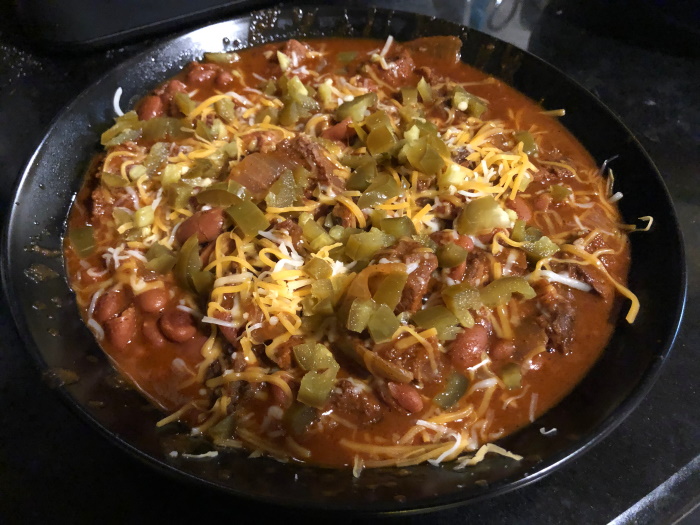 First time making chili with venison, and it was great! We used smaller cuts of meat and trimmings just a bit too big to consider 'grinder meat.' Makes a delicious, hearty chili.
2lbs. venison
1/4 cup balsamic Vinegar
Salt
Coarse ground pepper
1/2 cup of Chili Powder
2 TBS of Lime Juice
1 Large Sweet Onion
I medium Yellow onion
1/4 cup Olive Oil
3 12oz. cans Pinto beans
1 cup of tomato paste
Mexican Blend shredded cheese
Vlassic Hot Jalapeno slices
Brine the venison overnight in a gallon of water with one cup of salt and 1/4 cup of balsamic vinegar.
Place the meat in a one-gallon zip-loc freezer bag with 1/4 cup chili powder, 1 TBS of salt, a 1/2 TBS of coarse-ground pepper, 2 TBS of lime juice and a half-cup of water. Shake the bag vigorously to distribute the spices, then squeeze as much air as possible out and re-seal the bag. Cook in Sous Vide at 135 degrees for 6+ hours.
When meat is ready peel and chop onions and simmer in olive oil. Add 1 TBS of crushed garlic, 1/4 cup of Chili Powder, salt and pepper to taste.*
Drain the meat and slice into bite-sized pieces and add them to the onions. Simmer covered over medium heat until onions are translucent, stirring every 5-10 minutes. Add 3 12oz. cans of pinto beans and stir in 1 cup of tomato paste. Simmer for an additional 1/2 hour, stirring frequently to prevent burning.
Garnish with shredded Mexican Blend cheese and chopped Vlassic Hot Jalapeno slices. Serve with corn chips or tortillas. Serves 4-6
*If you want to add hot peppers chop them and add them at this stage so they have time to cook and properly share their heat.
There's all kinds of room to tweak this recipe to suit you; more or less chili powder, add hot or sweet peppers etc. Enjoy!
Michael Tinker Pearce, 2 November 2020