A lot of firearms have claimed the title of 'The Gun That Won the West;' the Colt Peacemaker, the Winchester rifle, even the one I consider the rightful holder of that title, the single or double-barrel shotgun.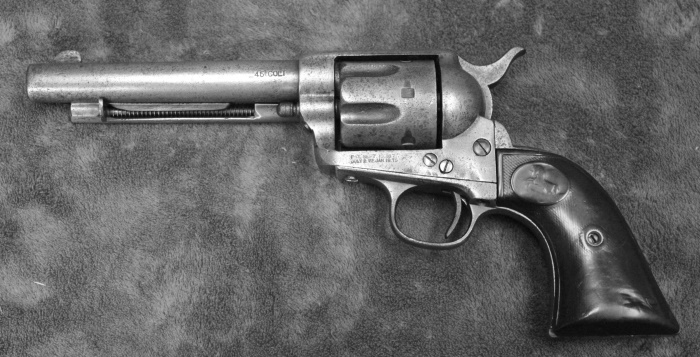 While all of these weapons played their roles and we can argue their claims until we're blue in the face, these were not weapons carried on a day to day basis by average citizens. They were carried mostly by outdoorsmen; cowboys, prospectors, Army scouts and lawmen. But most people were not of that ilk; shopkeepers, bankers, blacksmiths and all the myriad folks that make a society work would have looked mighty out of place with a full-sized belt pistol.
This is not to say they went unarmed, though many of them did. Those that did were simply more discreet about it. Derringers abounded, most having a single or double barrel, and there were a few 4-shooters as well. But the market seems to have been dominated by compact small-caliber revolvers. Colt's first proper cartridge-revolver was in fact a pocket gun, and as soon as the Rollin White patent on bored through cylinders expired the market for such guns boomed.
Colt, Remington and others offered quite a few variations on the theme, and these were for the most part solid-frame , single-action revolvers that either loaded via a gate (like the Peacemaker) or by removing the cylinder; in either case reloading was a somewhat awkward process, and not generally a fast one.
S&W had a different solution- they introduced their top-break, auto-ejecting #3 revolver, and by the mid 1870s introduced pocket versions of these guns in .32 and .38 S&W.
Like their Schofield revolver these compact guns ejected their shells automatically when the mechanism was opened, and thus could be reloaded much, much faster than solid-frame gate-loading guns. While it is true that top-breaks are weapons are weaker than solid-frame guns this did not prevent them from being chambered in potent calibers like .44-40, and many of these guns work as well today as they did 150 years ago, so 'weak' is a relative term.
Shortly thereafter S&W introduced top-break double-action revolvers, and then hammerless variants of those. Other companies quickly jumped on that bandwagon, though none in my opinion equaled the quality of the S&W guns. Between the cheap solid-frames and top-breaks pretty much anyone could afford a pocket-revolver that would work at least long enough to save their life (provided they could shoot.)
Below are photos of some of these guns from a variety of makers. Solid-frame guns are sadly under-represented. I'll need to work on that…
From the 1870s through the end of the century there were no shortage of concealed-carry revolvers, and they while their larger siblings grabbed all the glory these were the guns of everyday folk.
There are a great many still out there, and since such guns were carried (or sat in a night-stand drawer) far more than they were taken out and fired many of them are still in good, useable condition. Most are not too expensive, though prices are rising as better-known guns increase in value; a case of 'a rising tide lifts all boats.' You should of course have any such firearm carefully examined by an expert before firing them, and you should fire them if it's safe; they're a lot of fun to master. Of course you'll probably want to reload your own ammunition; these old calibers can be hard to find and expensive when you do.
Michael Tinker Pearce, 17 February 2021
If you like what you see here please consider clicking the link above and supporting me on Patreon.